Pirate's museum "COVA DEL DRAGUT" – CULLERA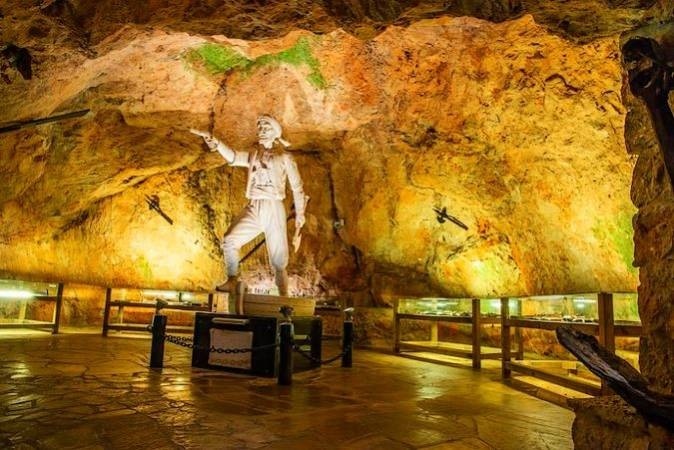 Legend has it that in the 16th century, a terrible pirate named Dragut or Darghouth of Turkish origin, sailed the waters of the Mediterranean Sea and had his home in Cullera, that beautiful town surrounded by sea, sun, river and mountains.
Dragut was one of the most feared pirates at that time, after the Pirate Barbarossa; the protector of him.
When Barbarossa died, Dragut inherited his fleet of ships with which he conquered Malta, Sicily, Corsica, Sardinia and Valencia; in this last province he establishes his inn in the town of Cullera, more specifically in the Isla de Los Pensamientos; a district in the Faro de Cullera on the edge of a cliff.
Currently you can visit the cave where the ruthless and cruel Pirate Dragut resided and stored all his treasures. It is a small museum dedicated to the corsairs of the time where those who have visited it tell that they can see historical maps, artillery pieces, period clothes, coins and an endless number of objects that transport you to the 16th century.
This cave is located on the edge of a cliff, in a natural environment of great beauty where you can travel back in time to the 16th century and contemplate an exhibition of pirate elements; such as maps, suits, coins,….
Services
Guided tour with audiovisual show
Tourist train (in summer)
Prior appointment for groups.
Hours, location and price of the Pirate Museum of Cullera
Price: € 5 adults - € 3 children
Cave-museum of the pirate Dragut:
Open every day from 9am. at 11pm.
Location: Plaza Dr. Fleming, s / n (Faro de Cullera)
Contact: Tel: 605 992 712 dragutcullera@hotmail.com