Extending the town towards the sea and towards the river is the bega area, adjacent to the river port, and giving way to the Xuquer boulevard on the other bank of the river.
The area of ​​the bega was the extension of the traditional town where we currently find more recent constructions such as buildings of more heights. In this area live the people of the city themselves, working-class families, dedicated to the different sectors of activity that are in the city and its surroundings.
In this area we find public buildings such as the health center, the house of culture / library, the municipal market or the port facilities.
Continuing towards the river, in it we can find moored fishing and recreational boats and take a pleasant walk through the river port reaching the beach and mouth of the river, which is called the breakwater.
The breakwater is on the margin of a still unbuilt rustic area which has been the target of several urban development plans to raise both residential and hotel buildings and a marina. After several years still, and since the approval fell before the financial crisis of 2008, to this day it does not have any definitive plan.
La Raval de San Agustín
Also at the foot of the mountain, but sheltered from the sea and behind it, we find the most traditional neighborhood next to Sant Francesc. It is about El Raval, an area of ​​town houses, some of them centuries old.
The Raval area begins where the church of El Raval is located, a few meters from the iron bridge, and which connects with Valencia and Sueca streets. Valencia Street is the main road that runs through the Raval and connects all the streets that go up to the mountain.
In the raval we find some local facilities such as the soccer field, the municipal sports pavilion, the Raval health center or the cemetery.
At the exit from Cullera to Valencia, the Raval borders the industrial estate area, the area of ​​large shopping areas, restaurants and cinema, and the train station.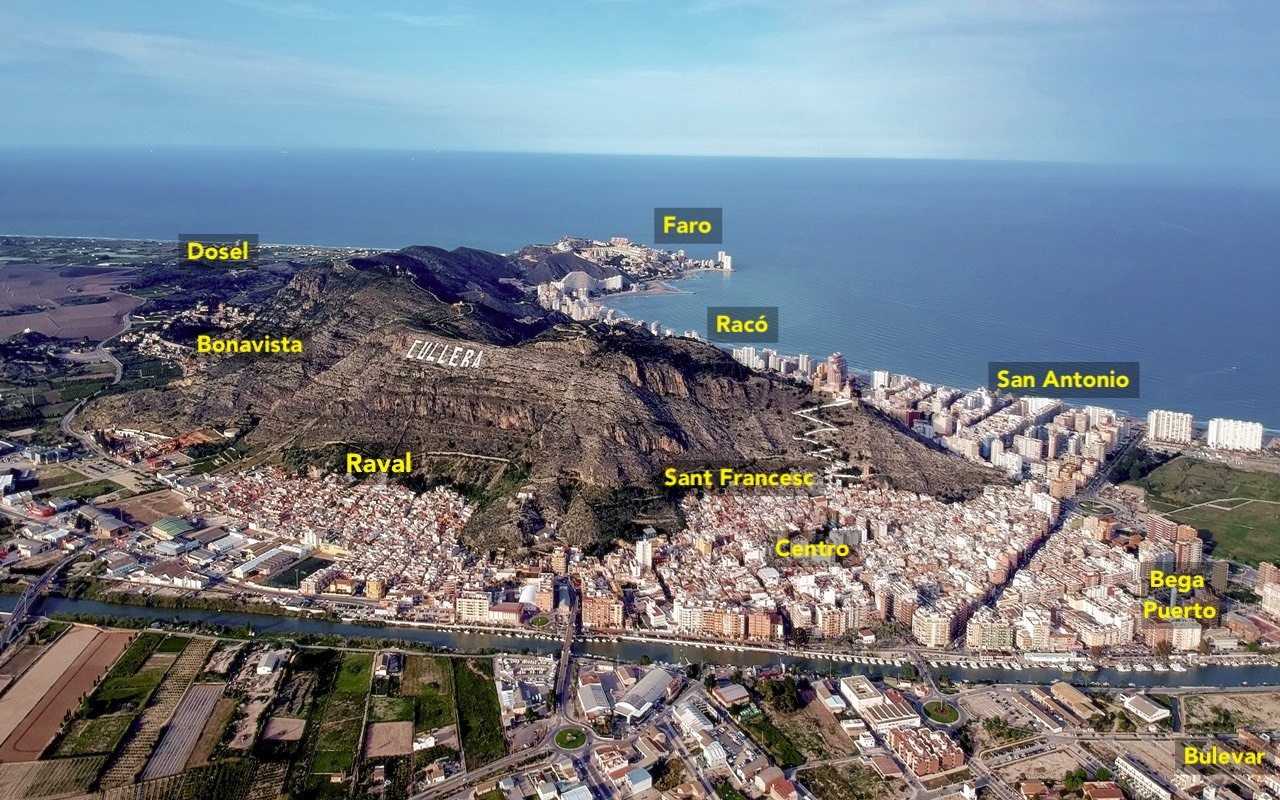 Aerial image of the raval (left part at the foot of the mountain) and center, port and bega (right)